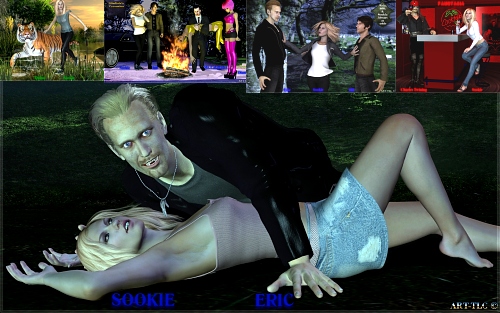 FREE 'Sookie Stackhouse II - True Blood Widescreen' SCREENSAVER

Fifteen new Widescreen 3D images inspired originally from the "Sookie Stackhouse Novels", written by Charlaine Harris (This saver and wallpapers were approved by Charlaine Harris), and the HBO series "True Blood". Images content remain true to events in the novels, rather than the HBO series, but some characters look like actors in the Series. Optional music included, or you can add your own music to this saver which also supports dual monitors. F2 sets any saver image to your pc background wallpaper. Images copyright, ART-TLC.com. Some Sookie 3D characters are LMDesign's "Tammy", seen here, By StudioArtVartanian, and and By Godin. Download Free Wallpaper from this screensaver! Screensaver and images copyright, ART-TLC ©. This screensaver fits any screen settings.


Download 8.2 MB Screensaver for most Windows and Screen Settings

10/28/10 Ascent of Eric northman-Eric Northman tells his life story!